| | |
| --- | --- |
| | The following Lore information lacks references or sources for some or all of its content, and may not be correct. Please help improve this article by properly citing sources. |
Character Summary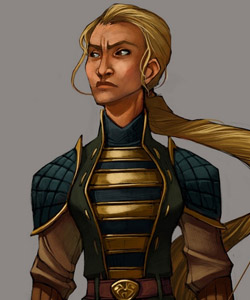 Race:
---
Associated Groups:
---
Eras Active:
---
Important Dates:
0 PY - Slays the Olthoi Queen of Dereth
---
Related Characters:

Elysa Strathelar is the High Queen of New Aluvia, the kingdom on Dereth made up of the Aluvian Realm, Sho Nation, and Gharu'ndim Kingdom, and allied with the Lugians of Linvak Tukal, Aun Tumeroks of Timaru, and Viamontian Rebels of Silyun.
She is the mother of Borelean Strathelar, friend and ally of Asheron Realaidain, and was romantically involved with Thorsten Cragstone, then years later Antius Blackmoor. Both of her lovers were slain in combat, Thorsten by the Dereth Olthoi Queen before the age of Lifestones, and Antius by Jared Kurth who was wielding the lifestone tie severing sword, the Heartbreaker.
The story of Elysa and Thorsten Cragstone's Rebellion against the Olthoi is retold during the Black Death Catacombs Quiddity Seed Quest Quest.[1] She appears as a ghost apparition, first as a level 1 "Escaped Slave", at the end of the quest as a level 89 "Rebel Leader", weilding her bow and killing the original Olthoi Queen.
Related Pages
Appearances in Quests & Live Events
Lore Articles
Texts
Quests
Items

Elysa's Longbow

Elysa's Phantasmal Arrow

Elysa's Incomplete Reflection
Elysa's Determination

Elysa's Resolve
Elysa's Courage

Elysa's Partial Reflection

Elysa's Band

Elysa's Bangle

Elysa's Boon
Elysa's Pendant

Elysa's Wondrous Orb
Elysa's Wristlet

Elysa's Favor (Red)

Elysa's Favor (Blue)

Elysa's Favor (Yellow)
Elysa's Favor (White)
Elysa's Crystal
Images
Elysa's Apparitions
Elysa level 1
Stats level 1
Elysa 3th Device
Elysa level 89
Elysa level 89 Stats
References