Value: 1,000
Burden: 30
Covers Head
Armor Level: 10
Slashing: Below Average (4)
Piercing: Below Average (5)
Bludgeoning: Average (10)
Fire: Poor (3)
Cold: Below Average (4)
Acid: Below Average (5)
Electric: Poor (3)
Nether: Average (10)
Properties: Dyeable
A dashing eye patch for the bandit on the run.
Notes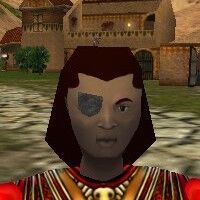 Dropped By
Original Palette for Eye Patch
ACID
Name
Sample
Hex
5665
EyePatch
000000
The sample is only an approach of how the item looks ingame.
See User:Sanddh/Guides/Armor Color Table for other available palettes.
Dyed Eye Patch

Lapyan
(Light Blue)

Colban
(Dark Blue)

Verdalim
(Green)

Minalim
(Mint Green)

Relanim
(Purple)

Thananim
(Black)

Hennacin
(Red)

Argenory
(White)

Berimphur
(Yellow)

Fail-Dyed
Community content is available under
CC-BY-SA
unless otherwise noted.