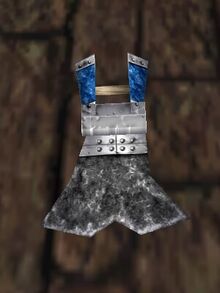 Value: 4,000
Burden: 120
Skill: Heavy Weapons (UA)
Damage: 31.5 - 63 , Bludgeoning
Speed: Very Fast (1)
Bonus to Attack Skill: +25%
Bonus to Melee Defense: +25%
Spells: Heavy Weapon Mastery Other V
Properties: Olthoi Slayer, Unenchantable, Attuned, Bonded, Ivoryable
Wield requires base Heavy Weapons 250
Activation requires Arcane Lore: 125
Spellcraft: 250.
Mana: 1000.
Mana Cost: 1 point per 20 seconds.
A cestus constructed from obsidian and cerulean colored stone.
Notes
You must be trained in Unarmed Combat to receive this reward.
Like all other weapons from this quest, this item became attuned & bonded during the Master of Arms event, making it only usable by the character which it was stored on during the patch.
Community content is available under
CC-BY-SA
unless otherwise noted.