Related topics: Bael'Zharon, Shade of Bael'Zharon, Void of Bael'Zharon
Character Summary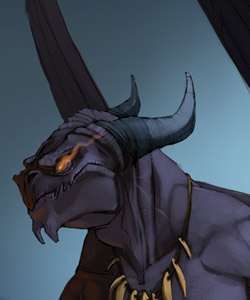 Race:
---
Eras Active:
---
Related Characters:
Empyrean Shadow War
Fourth Sending of Darkness
See also Soul Crystals
Thousands of years later, after the Olthoi drove the Empyrean off of the planet,during a digging by the Gelidites, a young mage named Frisirth found a beautiful, sparkling crystal. The locals called it "Great Work". A human expedition slaughtered the Gelidites, and destroyed their "Great Work." As the malignant crystal shattered, darkness swallowed the center of the room, and a faint, eager chuckle was heard. [1]
Isparians were unwittingly duped into freeing Bael'Zharon from his crystal prison. Some sought to prevent the last piece of the prison -- the Shard of the Herald -- from being destroyed, but they were defeated. An Isparian monarch named Vidorian, who had sworn allegiance to the Hopeslayer, accompanied two of Bael'Zharon's generals and assaulted the defenders below the Ithaenc Cathedral. They broke through the defensive lines and shattered the crystal. Thus in Portal Year 11 began the Fourth Sending of Darkness. The Shadows attacked from all sides, the Hopeslayer roamed the land, and the rivers ran red. [2]
Related Pages
Appearances In Game
Texts
Quests
Related Items and Objects

Statue of Bael'Zharon, the Hopeslayer

Altar of Bael'Zharon

Skull of Avoren Palacost

Heart of Shadow

Fragment of the Singularity

Blood of the Hopeslayer

Remnants of Ilservian

Pack Bael'Zharon
Using one of the altars of Bael'Zharon ("Going red" or PK) makes you a follower of Bael'Zharon
Locations
Creatures
Images
References
↑ 1.0 1.1 1.2 1.3 1.4 1.5 1.6 1.7 1.8 2000/11 - Should the Stars Fall/The Child of Daralet--Leafcull to Frostfell, PY 11 / (November to December, 2000)
↑ 2.0 2.1 2.2 2.3 2.4 2004/04 - On Bended Knee - Pack Bael'Zharon
↑ 2000/02 - Shadows of the Past - Imperial Missive