We named our new home Kor-Gursha, which means "Wild Hope" in our language. --- Rheegur - The Founding of Kor-Gursha
Kor-Gursha is an underground village on the distant world of Bur.
It is the home of a renegade group of Burun Ruuk and the starting point for all the quests on Bur.

To gain access to Bur and therefore this city, a character must first complete the upper or lower Bur Flagging quests (Asheron's Departure Lower for 1-79 or Asheron's Departure for 80+).
To find the portal, go as N as possible through Bur.

Completing a series of quests (Asheron's Departure, Saving Asheron, then Bur Recall) gives a recall spell that drops the caster at the western end of Kor-Gursha.

Map: Map of Kor-Gursha
Portals
To Kor-Gursha
| | | | | |
| --- | --- | --- | --- | --- |
| Location | Coords | Destination | Coords | Restrictions |
| Bur | Go as N and down as possible | Kor-Gursha | -- | Quest Flag (Asheron's Departure) |
From Kor-Gursha
Points of Interest
Dungeons
See Category:Dungeons: Kor-Gursha
NPCs
Creatures
Creatures that are commonly found in the area surrounding Kor-Gursha.

Thrungus
Art & Images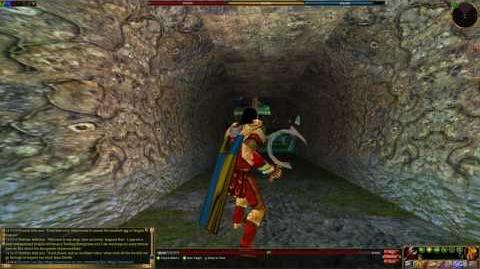 Community content is available under
CC-BY-SA
unless otherwise noted.