Original Link (now dead) - http://www.microsoft.com/games/zone/asheronscall/dark_majesty.asp
---
ASHERON'S CALL: DARK MAJESTY EXPANSION PACK AVAILABLE THIS HOLIDAY
[6.25.01]
Microsoft today announced that the Asheron's Call: Dark Majesty Expansion Pack will be available this holiday at retail locations throughout North America. The first of its kind for the franchise, this expansion pack includes the original Asheron's Call as well as many new features and a compelling new landmass. Asheron's Call: Dark Majesty will be available at retail for only US$19.95 and will include one free month of play.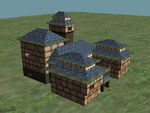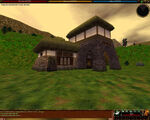 "Turbine is very excited about the expansion pack, and our continued relationship with Microsoft. The Asheron's Call franchise is a very important part of our company," noted Jeffrey Anderson, President and CEO of Turbine. "We are firmly committed to developing and delivering high-quality online entertainment."

The Expansion Pack delivers on new additions such as housing and storage, two of the features most requested by our customers. Players will be able to purchase their own homes on designated plots of land, as well as use their residence for secure storage purposes. The Expansion Pack also kicks off the next chapter in the on-going Asheron's Call story-line by introducing the island of Marae Lassel. Marae Lassel is a sprawling new landmass which will contain new quests, dungeons, and treasures and will be accessible to all levels of players who purchase the Asheron's Call Expansion Pack.

Asheron's Call: Dark Majesty builds upon the epic, evolving storyline by paving the way for the return of an old nemesis. "We don't want to give everything away," says Nik Davidson, producer of the Expansion Pack, "but suffice to say that the name of the expansion pack is a big clue."


"Microsoft is making a significant investment in Asheron's Call with both the expansion pack and in the sequel to Asheron's Call which we announced earlier this year," explained Matthew Ford, Lead Program Manager for Asheron's Call.
Community content is available under
CC-BY-SA
unless otherwise noted.