Nanjou Prison
Quests
Nanjou Stockade
Restrictions
Level: 200
Tieable: No
Recallable: No
Summonable: No
Coordinates
78.0N, 41.6W
near Beach Fort
Nearest LS
 ??
Route
Stonehold to Desolation Beach portal at 69.7N, 20.2W.
Map Files:
Wiki Map

584F
Speak with Shorikan at 78.0N, 41.6W to enter.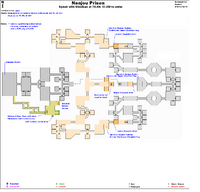 None
Creatures Edit
Items and Objects Edit
Portal - General location, drop coords, restrictions.
Click image for full size version.
Update History Edit