"Timaru is the capital city of the Aun Tumeroks who have made peace with the Isparians and their allies. It is located on the Marescent Plateau of Marae Lassel. Sitting atop an even smaller plateau, Aun Firanauri the Gate Keeper vigilantly guards the town, and will not allow entry to anyone who has offended the Aun Xuta." --Town Network Sign
Timaru is a town populated by the Aun Tumeroks. It is located on a hill at 44.2N, 78.0W on the Marescent Plateau on Marae Lassel.
The Plateau is restricted to characters level 35+. The town itself sits atop a smaller plateau. Speak to Aun Firanauri, an NPC at the base, in order to get portaled into the town. If you have recently been hunting Aun Tumeroks he may not grant you access.
As part of the quest to slay the Olthoi Queen under Marae Lassel you must break the Menhir Rings on the island and by doing so Firanauri will refuse to let you enter the town for 3 weeks (that is unless you are the one that kills the Queen).
Portals
To Timaru
| | | | | |
| --- | --- | --- | --- | --- |
| Location | Coords | Destination | Coords | Restrictions |
| Town Network | Annex (South) | Timaru | 44.2N, 78.5W | None |
From Timaru
NPCs
Creatures
Creatures that are commonly found in the area surrounding Timaru.
Art & Images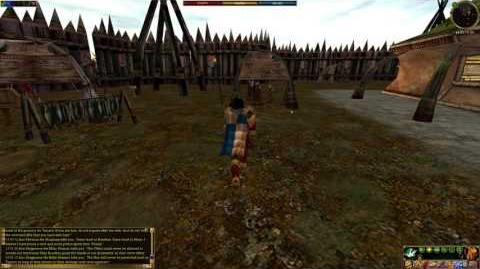 Community content is available under
CC-BY-SA
unless otherwise noted.